The Expanded Format is very exciting right now due to Anaheim Regionals (Dec 15/16) and Dallas Regionals (Jan 19/20) being the first and second NA tournaments with Lost Thunder added to the already massive card pool. Plenty of old favorites are back (and some better than ever) along with some new ideas that will have their first chance for success in Anaheim. In this article, I will be providing an approximated tier list, the list and strategies for my personal top pick in expanded, and some other theories and ideologies on the expanded meta.
TABLE OF CONTENTS
Tier List Pre Anaheim

Tier List Clarified and Further Explained
Top Decks

Ability Lock
Zoro Garb
Zoroark Control
Anaheim Results
Tier List Post Anaheim
Outro
Tier List (Pre-Anaheim)
High Tier
Archie's Blastoise
Trevenant
Zoroark Control (with 0 or 1 Seismitoad-EX)
Mid to High tier
Zoro Garb
Drampa Garb
Zoro Pod
Mid Tier
Buzz Roc
Groudon
Blacephalon
Rayquaza-GX
Mega Gardy (Despair Ray)
Low Tier
Wob Bats
Greninja
Night March
Seismitoad/Garb
Alolan Exeggutor
Undetermined
Lost March
Dimension Valley Garb Box (Necrozma-GX, Psychic Tapu Lele Promo, Girafirig LST)
Sableye/Garb (Puzzle of Time is banned, and Girafirig LST is new to the format)
TIER LIST CLARIFIED AND FURTHER DETAILS
High Tier
I expect the decks I placed in high tier to have multiple placements each in day 2, be popular in the overall day 1 meta, and all have great chances at winning the whole tournament.
Mid to High Tier
I think that these decks are very strong and I expect them to do well in Anaheim. They are not meta defining at the moment and are not expected to be among the most popular, which is why I don't have them in high tier.
TOP DECKS
Archie's Blastoise
One of the old favorites I mentioned in the introduction, Archie's Blastoise is currently revered by the community as one of the top decks. Up until recently this archetype was a rogue pick for quite a while in expanded due to Keldeo-EX, the deck's primary attacker, having a relatively low HP (170 on a two-prize Pokemon) and needing a fair amount of energy to take OHKOs which could be capitalized on as a weakness by cards that deal more damage for each energy attached to the defending Pokemon (Like Mewtwo-EX DEX, Gardevoir-GX BUS, and even Tapu Lele-GX GRI). Kingdra-GXfrom Dragon Majesty has become a mandatory inclusion in this archetype, as it has higher HP and higher damage output than Keldeo-EX. Kingdra-GX has all but solidified ArchieStoise's positive matchups against most Zoroark-GXvariants. This coupled with its aggressive starts and near-infinite damage output has brought it to be one of, if not THE top deck of the current Expanded Format.
Trevenant
Trevenant's item lock is an important check on the expanded format. The item lock is a check to any heavily item dependent decks like Archie's Blastoise and Rayquaza-GX and it is also the best one-prize focused archetype in expanded in my opinion. It gained Faba with Lost Thunder which is a huge deal against Zoroark-GX variants playing only special energy. Trevenant is my least favorite of the high tier decks, but its oppression against opponents due to its damage spread under item lock is undeniable.
Zoroark Control
Similar to the Standard Format Zoroark Control except it has many more tools to control the game with! The strategy is still the same: draw cards with Zoroark-GX, use Oranguru's Resource Management to recycle the control options necessary for the specific matchup, and remove your opponent's resources until the scoop or deck out. I am fond of the version with Garbotoxin Garbodor in it, and I do not think multiple Seismitoad-EX is going to the popular or the correct way to play this archetype. This won Portland Regionals, but I do not expect it to be completely dominant for the upcoming regionals. It is tier 1 due to its strength, its projected popularity, and the fact that decks are being teched with this in mind.
ABILITIES, ABILITIES… YEP MORE ABILITIES!
I propose that ability lock is very strong going into Anaheim and Dallas. Coming out of a Major standard event, some players may even find themselves foreign to the strategy of locking a player out of using their abilities, which is a strong advantage to have in addition to how many crucial abilities are used in Expanded.
Alolan Muk & Garbodor (Garbotoxin)
Below I have copy and pasted my approximated Tier List from above. If I have put "Garbotoxin" next to a deck, that means that the archetype is at least moderately affected by an opposing Garbotoxin Garbodor. If I have put "Muk" next to a deck, that means that the archetype is at least moderately affected by an opposing Alolan Muk with the ability Power of Alchemy (which reads that all basic Pokemon in play, in hands, and in discard piles have no abilities).
High Tier
Archie's Blastoise Garbotoxin Alolan Muk
Trevenant Garbotoxin
Zoroark Control (with 0 or 1 Seismitoad-EX) Garbotoxin
Mid to High tier
Zoro Garb Garbotoxin
Drampa Garb
Zoro Pod Garbotoxin
Mid Tier
Buzz Roc
Groudon Alolan Muk (Stops their Wobbuffet from shutting off our abilities)
Blacephalon
Rayquaza-GX Garbotoxin Alolan Muk
Mega Gardy (Despair Ray) Garbotoxin Alolan Muk
Low Tier
Wob Bats Alolan Muk
Greninja Garbotoxin
Night March
Seismitoad/Garb
Alolan Exeggutor Alolan Muk
Undetermined
Lost March
Dimension Valley Garb Box (Necrozma-GX, Psychic Tapu Lele Promo, Girafirig LST)
Sableye/Garb (Puzzle of Time is banned, and Girafirig LST is new to the format)
Garbotoxin shuts off important abilities across 5 out of 6 of the archetypes I deem to be at the top of the current meta. Alolan Muk has a lesser spread of value across this tier list, but in testing I have found it to be very good in Zoroark Control against rogue decks and turbo decks to shut off their retreating abilities (like Darkrai-EX's Dark Cloak) and switching abilities (like Keldeo-EX's Rush In).
ZOROARK GARBODOR
I prefer decks that have a lot of options and potential to find a win condition in most matchups and games. I quickly found that Zoro Garb was versatile enough to control games when needed and also take one hit knockouts when needed. I would be very comfortable going into the Anaheim meta with this list as it can adapt to many matchups.
Attackers
4x Zoroark-GX / 1x Zoroark Foul Play / 1x Garbodor Trashalanche
Zoroark-GX can hit 180 with a full Sky Field bench or 210 with the addition of a choice band making it an efficient and powerful attacker against an array of popular decks.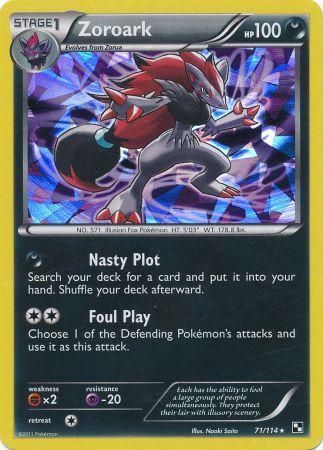 Zoroark BLW is great against any deck with attackers that have big attacks with high printed damage, since its Foul Play can copy any attack on the defending Pokemon. I often use this to Foul Play an opposing Buzzwole-GX's Knuckle Impact (with a Choice Band attached) or Absorption GX. Note that copying a GX attack flips your GX marker and you cannot copy a GX attack if you have already used a GX attack. Notably, using Foul Play against an opposing Zoroark-GX to OHKO it without leaving our own Zoroark-GX active is a huge play.
Garbodor GRI is our other non GX attacker.There is not much to say here, aside from the fact that Trashalanche can do huge amounts of damage for just a Psychic energy.
Control Pokemon
2x Garbodor Garbotoxin / 2x Klefki STS  / 1x Sudowoodo GRI
I'm sure that Garbotoxin needs little to no explanation here, but to lock your opponent out of abilities while one shotting their Pokemon with any of the above attackers is very good. Unfortunately, Garbotoxin locks our abilities as well…
2x Klefki STS
Klefki can attach itself from the bench to one of your Pokemon as a tool that prevents damage done to the Pokemon by your opponent's Mega Evolution Pokemon. Now, this could stop incoming damage from a Mega Gardevoir or a rogue Mega Rayquaza, but where it works beautifully is with Garbotoxin Garbodor. Klefki discards itself at the end of your opponent's next turn, so you can activate Garbotoxin with Klefki as a tool at the end of your turn and then have abilities turned back on before your turn begins. This can also activate Garbotoxin under item lock, since Klefki can be a tool card without requiring you to play an item. Alternatively, you can always attach a Float Stone to Garbodor and then Field Blower it off when you need abilities again.
Sudowoodo GRI
Great against Zoroark-GX variants, sometimes useful against other archetypes that would like a larger bench size. Against Zoroark-GX variants we threaten them with Sudowoodo, Garbotoxin, and one hit knockouts. This gives the Control Variants limited time and limited resources to control our board before we win the game.
I have evaluated this list to have a very favorable Archie's matchup, a slightly favored Trevenant matchup, and a 50/50 to slightly unfavored Zoroark Control matchup. This is the best matchup spread against the top tier decks that I have found in Expanded.
POSSIBLE INCLUSIONS
Oranguru UPR
Oranguru's Resource Management can help vs. Zoroark Control, but it is not enough on its own to win the matchup. I find this list turning into more of a Control variant with the addition of the other cards I find necessary for Oranguru to be worth it. That is not necessarily a bad thing, but it is not the way I have come to prefer to play Zoro Garb.
Faba
Faba is an amazing new card from Lost Thunder that removes a Special Energy, Stadium, or Tool card to the lost zone. That means if you can Faba 4 times with Vs Seekers/Resource management that you can possibly send all 4 of your opponent's Double Colorless energy to the lost zone.
Zoroark Control
This is the Control list that I have come up with for expanded. It is super intricate and difficult to play but very rewarding. Cards that I would like to fit into the deck include Seismitoad-EX to help vs Archie's, Unown Hand to have a win condition against opposing control decks, and Trick Shovel as a secondary mill option to Team Rocket's Handiwork.
I have only included 3 Double Colorless because I found early in testing that I rarely needed 4 Double Colorless and that basic water energy were better against decks playing special energy removal. My main attacker here is Oranguru, but Girafirig has proved very useful for sending resources like Special Energy, Supporters, or Basic Energy (against decks that replenish energy from the discard) to the Lost Zone. The Double Colorless have stayed in the list as sometimes it is applicable to KO a Pokemon with Zoroark-GX so your opponent cannot use it whether it is because of its KO potential on us or they have gotten too many energy on it. Double Colorless Energy can also be used on Oranguru's second attack to confuse an opponent's Pokemon. Articuno-GX is invaluable versus an opponent that has gotten out of control with energy attachments. In my notes, I have written "Faba" as my win condition next to nearly every deck I played against that is not entirely Basic Energy reliant.
Matchups like Archie's are won by using Counter Catcher, N, and Alolan Muk. By effectively bringing up a non-attacker to your opponent's active, shuffling their hand away, and turning off  basic abilities like Tapu Lele-GX's Wonder Tag and Shaymin-EX's Set Up, you can lock your opponent into dead drawing while you take your time either removing energy, removing things from the lost zone, or a combination of both depending on the turn. Throwing in a Team Skull Grunt, Team Rocket's Handiwork, and the occasional Trick Shovel can help you secure the win. Do not underestimate how important Counter Catcher is across most matchups.
In my testing I found no matchup that is unwinnable for this list, which would make it my second pick in the format. It would be my second pick because most misplays, no matter how small, are usually unforgiving. I also do not want to play the control mirror match, but if I were to play this list I would be prepared for 1-2 mirror matches of some sort.
Anaheim Results
Jimmy Pendarvis won his 3rd consecutive NA regional championships at Anaheim, and it was his second consecutive expanded regionals win with Zoroark-GX/Seismitoad-EX. Second place was Vespiquen/Flareon piloted by Connor Finton. Popular amongst day 2 placements were Zoroark-GX control variants and Zoroark-GX Garbodor.
Are The Bees Back?
I believe that playing Vespiquen/Flareon was a response to an advanced understanding that Connor Finton (and potentially teammates/testing partners) had of the general meta that was formulating for this Expanded tournament. Diverging for a moment, Night March was seemingly not even an option in the opinion of many top players that were guests in meta forecast videos (see my own channel and Seagrove's channel). This is related to Finton's deck choice because Vespiquen and Night March are both hurt by two of the same cards, Karen and Oricorio (GRI 56). These techs were deemed virtually useless since Night March was not going to be popular, which made a huge opening for Vespiquen to prosper.
Vespiquen/Flareon is an archetype that was kept in check in the past by these techs like Karen and Oricorio. Without these techs, Vespiquen has a huge damage output and a very consistent engine. However, it was not able to overcome Zoroark-GX/Seismitoad-EX. Although Finton was playing a Marowak which stops effects from opposing attacks on the player, ie: Quaking Punch's restriction on item cards and had an attacker in Vespiquen that can easily one shot Seismitoad-EX, there were many cards in Jimmy Pendarvis' Zoroark-GX list that proved disruptive enough to control Finton's Bees.
Seismitoad, the Final Poison
To my surprise, Zoroark-GX/Seismitoad-EX won another NA Regionals. Not to my surprise however, is the pilot who achieved this victory. In addition to many players whose opinions I respect, I also thought that Zoroark-GX/Seismitoad-EX would become outclassed and affected by lack of surprise and the release of Lost Thunder at Anaheim Regionals. Pendarvis adapted his Portland list to include Girafirig LOT and Faba LOT which are amazing options for control variants. The whole deck is basically built to control as many opposing decks as possible, but here is a list of cards I see that directly control Vespiquen which was the final deck Pendarvis had to defeat to achieve first place:
Seismitoad-EX prevents Vespiquen from playing their engine of Item Cards such as 4 VS Seeker, 4 Ultra Ball, 4 Battle Compressor
Girafirig LOT can send discarded Pokemon to the Lost Zone, diminishing Vespiquen and Flareon's damage output with every Pokemon removed
Plumeria is energy removal which is a devastating factor to FInton's Vespiquen list as it only ran 4 Double Colorless Energy (as opposed to some lists of the past which included Blacksmith and basic fire energy for attacking with Flareon)
Faba which is even harsher energy removal as it sends the removed energy to the Lost Zone
Enhanced Hammer
Parallel City can either be used to limit the Vespiquen's bench or limit their damage if placed the opposite side
Silent Lab can be used to stop the Vespiquen player from using abilities like Unown AOR, Shaymin-EX ROS, and Tapu Lele-GX.
Although this is specifically how Pendarvis' list could control Finton's Vespiquen/Flareon list, these control options are largely universal against the Expanded Meta.
Tier List (Post Anaheim)
This is my updated Tier List for Expanded.
High Tier
Archie's Blastoise
Zoro Garb (Previously Mid to High Tier)
Zoroark Control (with 0 or 1 Seismitoad-EX)
Zoroark-GX/Seismitoad-EX (Previously unlisted/undetermined as I expected all Zoro Control to lower their Toad counts)
Mid to High tier
Trevenant (Previously High Tier)
Drampa Garb
Zoro Pod
Mid Tier
Buzz Roc
Groudon
Blacephalon
Rayquaza-GX
Lucario-GX (Previously not an established archetype, Israel Sosa's Top 8 should cause this to see play)
Low Tier
Wob Bats
Greninja
Night March
Seismitoad/Garb
Alolan Exeggutor
Mega Gardy (Despair Ray) (Previously Mid Tier)
Undetermined
Vespiquen (Although it took 2nd Place at Anaheim, this archetype can be teched against with Karen and Oricorio. I believe this deck will rely on the player population's preparation for it)
This tier list above is highly relevant for any Expanded League Cups and also for Dallas Regionals. I would like to note that Zoroark-GX/Garbodor was very successful and it is still my top pick in Expanded. I have yet to change my own list, but considerations are adding Red Card, Delinquent, and/or Parallel City.